Sponsorship Opportunities for the 3rd Annual Kids' Yoga Day
Gain tons of visibility, great publicity and help promote children's health, wellness & yoga around the world!  The 2nd Kids' Yoga Day had over 145,000 participants from 50 states and 45 countries, which gave our sponsors an opportunity to connect with a huge, engaged, passionate audience.  KYD also garnered a large amount of high-level media attention and social media activity.  Search #kidsyogaday on FB, Twitter and Instagram to see just how much!  The 3rd Annual Kids' Yoga Day promises to be an even bigger global sensation and will also feature a Kids' Yoga Day event in the Los Angeles area!
We have sponsorship levels available to fit all budgets.  Your tax-deductible donation will be made through World Yoga Power, our new 501(c) non-profit organization whose primary mission is to support Kids' Yoga Day.  Contact us for more information about how your organization can be a part of the 3rd Annual Kids' Yoga Day!
The Buy Local Santa Monica Committee was pleased to partner with Kid's Yoga Day 2017.   It was a great opportunity to promote our city's emphasis on wellbeing, health and fitness to local youth and their families (as well as youth across the world!), while also helping to raise awareness of our local businesses and the iconic Santa Monica Pier.  We look forward to KYD 2018!
Jennifer Taylor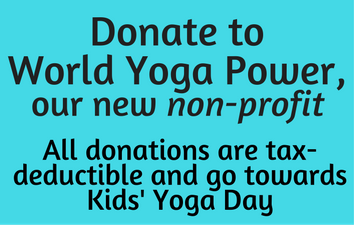 Kids Participating in KYD